Posted by rene on 06 Apr 2007 at 01:41 pm | Tagged as: Allgemein
Berlin, what a town, what a trip. I spended one week there and at all I really liked it. Just meat nice people in my 'Kiez', enjoyed the early spring in the town and went to a lot of parties. Not to forget that I meat Hugo – the one I spended some weeks one a motorbike with – who came over from India on the 2nd of April. And he enjoyed Germany and especially German food too 😉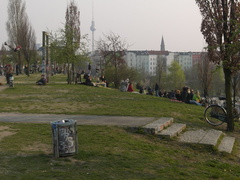 But after a week it's time to go back to Rostock, just to enjoy the whole life a little easier. So, enjoy some impressions from my trip by clicking on the images, I'm looking forward to Hugo's arrival in my hometown. If the weather is good enough, you will find some pictures of us laying on the beach and swimming in the blue Baltic sea here soon.
One Response to "welcome to berlin"
on 16 Apr 2007 at 20:01 Tracey




Hugo the barbarian!
Leave a Reply