Posted by rene on 18 Jun 2007 at 12:29 am | Tagged as: ... ? ...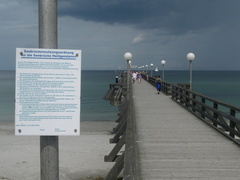 Two weeks after the G8 me and my mother had been for a short – and much cheaper – G2 meeting in Heiligendamm. Some impressions of the area are available if you click on the photo.
Zwei Wochen nach dem G8 Treffen in Heiligendamm habe ich mit meiner Mutter ein – wesentlich billigeres – G2 Treffen in Heiligendamm veranstaltet. Ein Klick auf das Bild nebenan gibt einige Impressionen dieses Ausflugs.
2 Responses to "G2 meeting in Heiligendamm"



thanx for the pics! May i have the same ice cream in august? i can not believe that you made this Molly-tourist-schnickschnack. Greez!

on 20 Jun 2007 at 22:21 rene




Hi,

yes, I did it. And I don't got a T-shirt proving it 😉 Anyway, if you come over I'll make you a special Mouse-Ice, but don't ask for the one on the photo, this is only available in combination with a Molli Tourist Trip, and I didn't planned to do another one in the next twenty years…

See you than,
Rene
Leave a Reply