Related Posts, oldest first:
Posted by rene on 23 Sep 2006 | Tagged as: nokia n770
… ist nun auch im Netz. Noch habe ich maemo-blog auf meinem Nokia770 nicht zum laufen bekommen, aber per Webinterface klappt das schreiben schonmal prima. maemo-blog verlaesst mich immer ganz schnell mit segfault. Aber wird schon…
Posted by rene on 26 Sep 2006 | Tagged as: nokia n770
Unglaublich dieser email-client, der zum OS2006 geliefert wird. Kann keine Ordner mit IMAP benutzen, ich glaubs nicht. Ist das OS1986? Na, auf der Suche nach einem alternativen client bin ich über sylpheed gestolpert. Eine Anpassung fuer das 2005er-OS findet sich unter http://bleb.org/software/770/
Da ich aber nicht zu OS2005 zurückwechseln wollte, und die Dokumentation zur sylpheed-compilation super war, hab ich mich dran gewagt und die aktuelle Version von sylpheed (2.2.9) gepatcht und für OS2006 compiliert. Zu finden unter.

Allerdings ist sylpheed auch keine Lösung. Beim Start vom Menu aus stürzt das Programm immer nach wenigen Sekunden ab, von der Konsole gestartet läuft es stabiler. Nur ist kaum Platz für das Lesen und Bearbeiten der Mails vorhanden, aus der Traum vom luxuriösen email-client auf meinem Nokia. Naja, vielleicht nehm ich's ja auch als Grundlage mal etwas intensiver in die 770er-Programmierung einzusteigen, wer weiss…
Posted by rene on 09 Jan 2007 | Tagged as: Hacking
Using my Grandstream GXP 2000 since a few days, I liked to get all my adresses from an electronical addressbook to it. I found the possibillity to upload a phonebook as XML (see [1] and [2]) and so I wrote a small script to convert VCARDS (as for instance exported from kaddressbook) into the appropriate format.
You can download version 0.2 of the script at http://absorb.it/hacked/vcard2gxp.awk
Just call it with the addressbook (in the below example the kde kaddressbook) as a parameter and you can send the output to the file you offer your phone than (in my case /var/www/localhost/htdocs/grandstream/gs_phonebook.xml)
vcard2gxp.awk /home/user/.kde/share/apps/kabc/std.vcf >/var/www/localhost/htdocs/grandstream/gs_phonebook.xml
Posted by rene on 09 Jan 2007 | Tagged as: Hacking, virtual id
A new Thunderbird is on the horizon (v 0.2b1) and some emails reminding me of updating the Virtual Identity extension (see [1], [2]) for usage with the new release. As usual, it's time to solve some problems and go trough the list of bugs, so I did. And I added some features too.
the smart-reply window was sometimes hidden by other windows. Changed the behaivior to wait for the MessageComposeWindow to shown up till a decision in the SmartReply-Dialog was made.
smart-reply till now only compared email adresses, not the full names beneath them. But sometimes the email address is always the same, but the full name changes for different recipients. So changed the behaivior.
In Thunderbird 2.0b I am able to retrieve an URI of the original email while editing a Draft. So its possible to extract the former senders address. Which means: Now emails with an virtual identity can be saved and edited afterwards, without any problems.
For a testing phase I released a beta version of the upcoming extension, feel free to try it and please report any problems or suggestions. You can find this release under http://absorb.it/hacked/thunderbird/virtual_identity-0.3.5b-mz+tb.xpi
The "Paragraph style Drop-Down Menu inoperable if VirtualIdentity installed"-bug is still open, see my entry in the xulplanet forum. Any help appreciated!
Posted by rene on 20 Jan 2007 | Tagged as: Hacking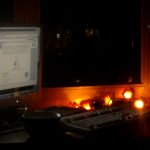 So, a new version of the firmware used in our Wireless Community Network is just in front of us. After hacking nearly a whole week I adapted the current firmware to the newly released OpenWRT RC6 and made a lot of improvements regarding CPU-load and flashspace usage. And hopefully cleaned more bugs than I added, but nobody knows… 😉
Called the thing a pre-release, cause it just has to be tested for some days in our network. You can download and test the firmware at the following links, but be warned, its a very Opennet-specific solution by now and the web-interface is only in German. But both aspects will change soon, else there won't be any way to continue with my project in India.
To install the opennet-firmware ads a package on an plain OpenWRT whiterussian RC5/RC6 you have to add the Opennet-Package-Repository to your ipkg.config.
Or you use the complete firmware below, at your own risk. The initial password is admin.
Have fun with it, I'm now ready for the real world again and it's time to go on a party this evening. I think the MS Stubnitz is the right place to go, cause it's hopefully still stormy like yesterday here. And the MS Stubnitz is back from Amsterdam since two days, so it's time to go there.
Posted by rene on 22 Jan 2007 | Tagged as: Hacking
A lot of comments came in over the weekend, so I adapted some small things and released a new version. Current one is RC6-ON1rc3 or 0.11-9pre10c. Check this out 😉
Posted by rene on 17 Feb 2007 | Tagged as: Hacking
wow, lost in cyberspace I not only forgot a lot of friends (sorry, will not happen again 😉 ), I also forgot to announce the final release of the opennet-firmware. Hope this also will not happen again. So, late but also there, the announcement: Opennet-Firmware 0.11-11 released. It's now compatible with the OpenWRT release 0.9 but can also be used on rc5 or rc6 as the former versions. And as usually, the complete firmware is also available, its now the on4 release.
If you have any questions how this firmware might be useful for you, or why not, feal free to ask.
Posted by rene on 17 Feb 2007 | Tagged as: Hacking, virtual id
…it has been a long while since I programmed the last bits for the Virtual Identity extension. With Virtual Identity you can create an Identity while writing an email in Thunderbird, without using the usual Settings Interface 'on the fly'. It's really handy if you have your own domain and use different email-addresses for different recipients, for instance to prevent spam.
But, the extension wasn't compatible with the upcoming Thunderbird 2.0. And as much as I like the program, I missed the often requested feature to scan headers for reply addresses. So I had to change it. And what a long way, at the end I decided to write the whole thing once again. Viola, there it is, the preview is ready and can be downloaded virtual_identity-0.4.0pre-mz+tb.xpi
Features of the new Version:
smoother integration in the Thunderbird Interface
use specified mail-headers for Smart Reply feature (needs installed enigmail or mnenhy extension)
allow saving of Drafts/Templates keeping Virtual Identity stored (requires Thunderbird 2.0)
compatible with Thunderbird 2.0
sounds good? Ok, than try it, and please report any bugs or problems. And feel free to contact me if you like to translate the extension in your language…
Posted by rene on 04 Mrz 2007 | Tagged as: ... ? ..., Hacking
Yesterday was another hands-on day to get our wireless network working better. Since more than a year we can use a church in our neighborhood as a Routing-Point for our network. The first installation from last spring was well made but never as useful as expected. So it was time to remade the whole thing. This time we decided to first install a test setup and make the whole installation more flexible than the last time.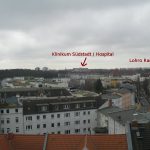 We installed a 11b/g router to cover the ground and a 11a (5GHz) router to possibly create a backbone soon. Cause we are currently got the permission to use a hospital in the south of our town to install some routers and a local radio station gives us some connectivity, this is hopefully step to a better internet-supply for the whole area. We will see if we get the whole thing better this time. It will also be our first experience with the 11a/5GHz standard, we expect a much better throughput cause of less noise in this band.